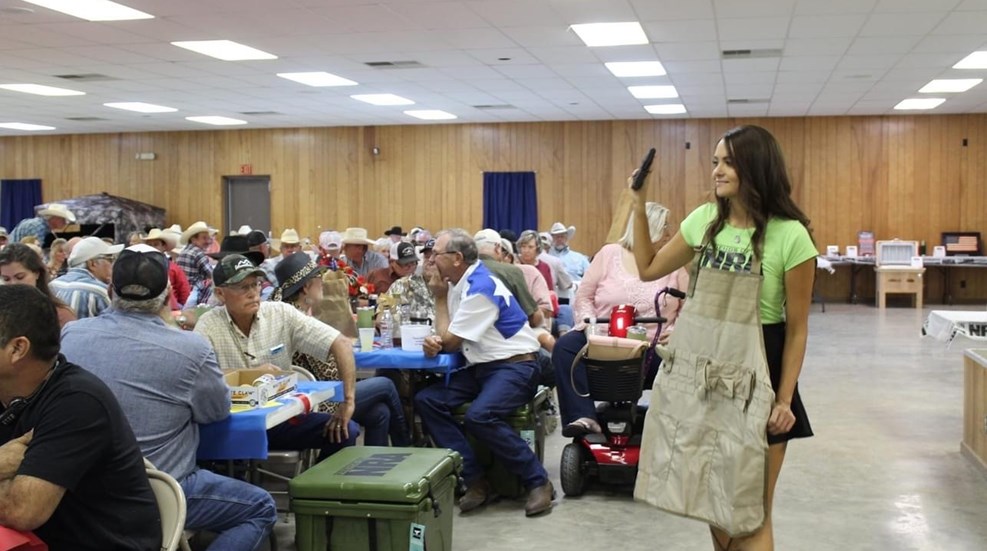 For over 24 years, Karnes County Friends of NRA has become a Falls City, Texas tradition that people look forward to attending each year. "The county has a population of just over 14,000," noted Tyler Ward, the South and West Texas NRA Field Representative. "The love that this community has for the program can be seen across the room with smiling faces, laughter, and excitement filling the air."
Not only do the attendees love gathering for Friends of NRA annual events, but they are driven to support a cause they all care deeply about. In 2022, the Karnes County Friends of NRA broke their all-time fundraising record by over 35% and achieved Defender Club level for the second time. Their previous record-breaking year was in 2020, just before the shut-down caused by the COVID-19 pandemic, where they achieved the Defender Club level for the first time.
At their 2021 event, the Karnes County committee and all the attendees were recognized and presented with a special achievement banner for their amazing 2020 accomplishment. The crowd went absolutely wild, especially when Tyler shared that they had the top 5 highest net raised in the country for 2020. Little did they know that two years later they would beat their all-time committee fundraising record, despite a delayed start to their fundraising, and fewer attendees than in 2020.
Tyler shared, "I'm very proud of what the Karnes County Friends of NRA Committee has accomplished throughout their 24+ years of fundraising." This event has consistently taken the top honors of having the highest net each year in South Texas, and have been known to have one of the best live auctions each year.
Tyler added, "It is said to never underestimate the power of a few committed people to change the world, and I can attest to that because of the wonderful success this event has had throughout its years in Falls City. It may be a small city, but has a heart the size of Texas. I look forward to seeing and celebrating many more accomplishments together in the future!"
To get involved with a Friends of NRA committee near you, go to friendsofnra.org/volunteer.